Okay, so I got my new tires installed today and as expected, they said I needed an alignment. (But they dropped it to $40 from $90 because I originally rejected it. I guess that should have been a red flag.). The original claim they made was "Oh no!!! all 4 are out of alignment!!!":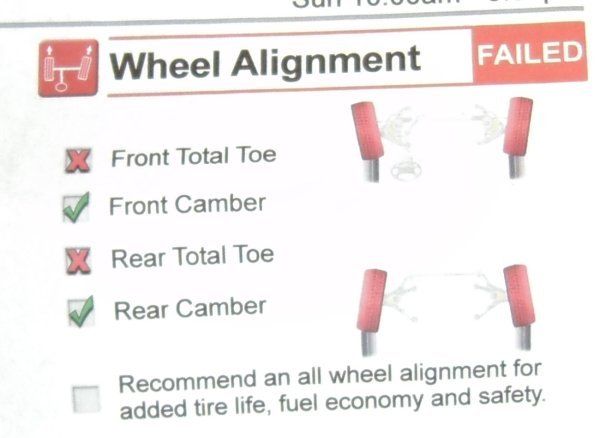 That preservice sheet doesn't suggest a 4 wheel alignment (and I somehow didn't notice that). I found an old thread on Genvibe saying there's no rear adjustment on the 2wds without a camber kit? Oreilly shows shims for rear alignment. Shouldn't Sears DO THAT if I paid for an alignment?
Here is the sheet they gave after the alignment was done. It looks as if they didn't adjust the rear....and yet it's FURTHER OUT OF SPEC on the left rear now than it was and right rear is slightly further into spec. HUH?? Sloppy alignment checking??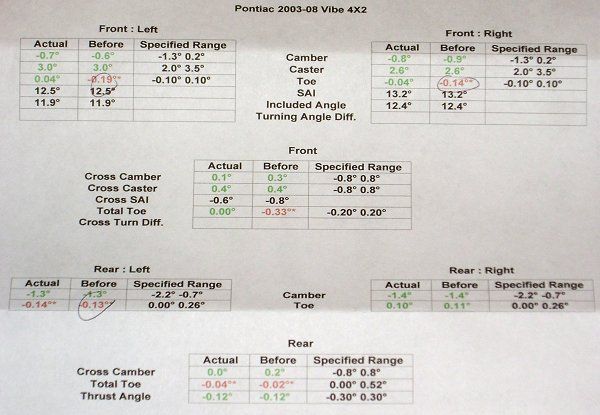 The receipt in tiny print mixed in with hundreds of other words states "YOUR VEHICLE MAY REQUIRE ADD. PARTS AND/OR LABOR TO COMPLETE YOUR ALIGNMENT SERVICE" but they said nothing about that and I didn't notice that either since I was just ready to go and I was a bit tired and hungry. (That combination totally ruins my judgement, without even realizing I'm in that state). But like I said, shouldn't adding shims be Sears' job if I paid for an alignment to get it in spec? They can't very well pick and choose what they wanna do to get alignment right when they are being paid to do an alignment.
I have a feeling they knew they'd rip me off when I initially rejected alignment saying I'd go to a dealer. Then they dropped it from $90 to $40. That should have been a red flag. Well, I still get free front alignments for 6 months at least.
EDIT: From what I've read, it requires pulling hubs and installing plastic shims cut to fit to correct it. I thought I overheard them talking about that to each other but they never said it to me. I thought they might have been taking about another customer's car brake wise since I heard them talking about pulling drums. I guess I'll have to check around for a real tire shop or just take it to a dealer and have them do it. Ugh. I hate that I threw $40 down the drain though, basically. Maybe the front alignment IS better but now I have to worry about the rear eating up a new tire. I guess I shoulda paid for an alignment first to see where things stood, huh? *sigh*
EDIT 2: Oh, wait, is THIS how they install (basically?):
http://www.4130-products.com/step/shim/
If I was sure I'd get it right, I'd do that myself. However, if it's only needed on one side... screw it. I'd rather pay a shop $150 to it to be sure it's done right so i don't ruin a $130 tire. (If it's not already chewed up from 150 miles so far on it).
However! I moved the rear tires to the FRONT because the FRONT ones were badly worn down, so that tells me that perhaps the rear alignment is fine and Sears just got it wrong. I guess I need to find a real, old fashioned tire & alignment shop, or just go to the dealer, and have then do an alignment check with the stipulation that if it's truly out of spec, if they'll consider that fee part of correcting the problem if it needs it (so I don't pay them twice for an alignment check). ugh. This stuff shouldn't be this complicated.
THANKS FOR NOTHING TOYOTA AND/OR GM FOR MAKING THE REAR NONADJUSTABLE!