Proud new used Vibe owner earlier this week! Decided I wanted a relatively low-mileage WHITE 2006 to 2008 Vibe with Sunroof and automatic transmission. So let the search begin! Looked locally and nearby large cities before launching an exhaustive search across the continental U.S. using the internet. The final choice was easy and I had my new used vehicle shipped 1,550 miles right to my front door (well, not exactly; how about shipped to the street in front of my house

).
Upon unloading the vehicle started right up. Idled 15 minutes while I paid the driver and took care of the necessary paperwork. Then I took her for a spin and within 10 minutes she was stalling and I barely got her home before refusing to start at all. I then changed the plugs, added sea-foam to the gas tank because it had been sitting for 4 months, removed the alternator and had it tested. It seemed I had spark, fuel, and air so she should run. Before returning to work the next day had her towed to my mechanic who fixed her up pronto with a new fuel pump. All is well now!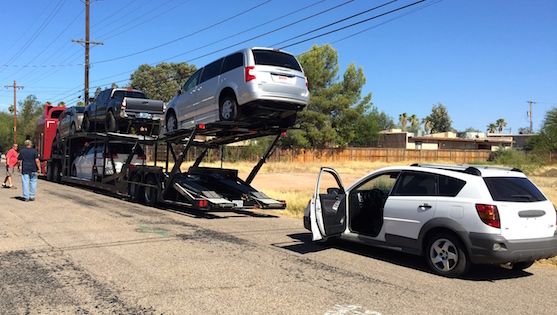 What I Have
* 2006 White Vibe AWD
* 105,000 miles on the Odo
* Power Sun Roof Tilt and Slide
* Tinted Glass and rain guards on side windows
* Fog Lights
* Came with two brand new tires on the front and two almost new tires on the rear
* Some minor body dings and scratches
* No Rust
* Exceptionally Clean and New Inside
* Overall somewhere between Good and Very Good Condition
What's Wrong
* Fuel Pump (now replaced)
* Radio Display Light does not work although the radio is fully functional (but cannot see what station you're listening to)
* Dome Light still does not work after replacing the bulb. (unlikely a bad fuse would effect the dome light but not the map light)
* No other known issues or problems (runs and drives like a dream)
Future Upgrades
* 16" OEM Alloy Rims
* Double Din Touch Screen Radio with Rear Cam (with Apple CarPlay)
* Looking for one continuous piece of carpet or rubber mat to cover the entire cargo area when rear seats are folded forward
* Cross Bars for the roof rack
* Possibly have it repainted to correct a few minor dings and scratches.
And finally this last picture is the reason I did not search for anything newer than a 2008. No rim or lip to load heavy equipment into the cargo area. Also it appears the 2009 and newer also have narrower rear access. And of course we all love how the rear seats fold forward completely level with the rear cargo area. I'm a contractor and I expect this vehicle will be a workhorse and allow me to keep my 1991 Dodge Cummins Diesel resting in the shade except for the times I need the larger truck work capacity. Plan on leaving the rear seats folded forward on nearly a permanent basis except for those times I may fold them up to carry a 3rd or 4th passenger. As mentioned I would like to find or fabricate a custom fit matt the covers the entire cargo area when the seats are folded forward.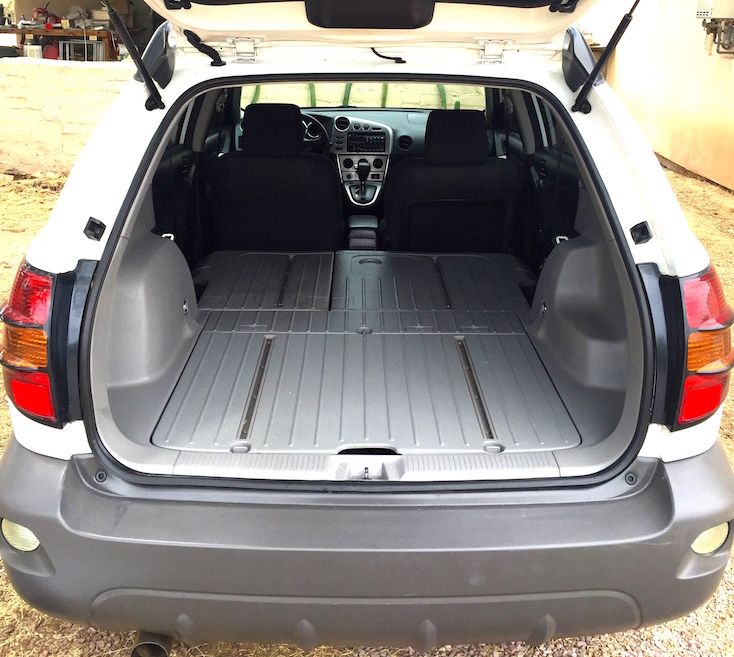 I would have preferred FWD for the better fuel economy but this was the best I could do giving the limited time I gave myself to find my vehicle. After paying for the vehicle, shipping, and fuel pump replacement my total cost is $4,750 for a low mileage single owner vehicle. I couldn't be happier! My plan was to be into it for $4,350 but I did not expect to have "no start" issues right off the delivery truck and if I did not have to get back to work I would have diagnosed the fuel pump myself and made the swap to keep my total out of pocket to $4,500. Dealers in my local area are getting $7,000 + for a Vibe this nice (and at the moment no white ones with sunroofs).