Congrats to... me! Yay! And now... introducing our new VOTM questionnaire!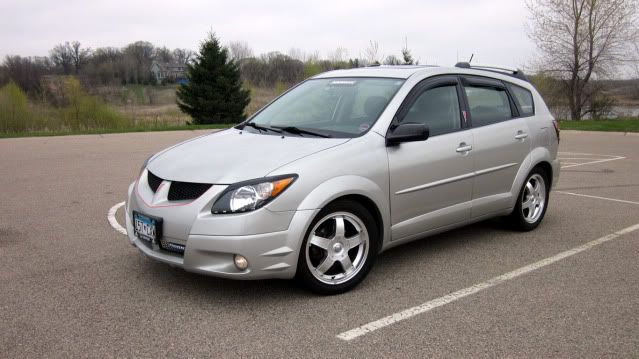 Congratulations on winning Genvibe's Vibe of the Month! Tell us how you came to find out about the Vibe, and why you fell in love with it:
The first time I really interacted with a Vibe was back in '02/'03 when it first came out. I liked the car on the commercials, and got the Matchbox Premium Vibe at Target. Fast forward to when I'm 15, and I'm looking for a car. I do a little research on the Pontiac Vibe and it is everything that I want! The first one I get to sit in is the one I own now, and I was in love with the entire car!
How did you come to own your Vibe?
Craigslist. I window-shopped Vibes for a long while, but one kept on popping up. It had been for sale since August and price had come down about $1500 since the first posting. Color and features didn't matter to me. I also had my eyes on a sparkly-red (I don't know a lava to be metallic, so I think it was custom paint) 05 with 125k miles, but that one sold before I could really look at it. A phone call later, and we checked out this little silver thing in Chaska from an eastern-European man. A test drive, and she's mine!
Factory options?
Automatic, power package, 6-speaker sound system, monotone, satellite silver paint, 16" alloy wheels, cruise control, and sunroof (something I didn't think I cared about until I had one).
Does your Vibe have a name?
Yep. Her name is Vibeos. I just call her Vib or Vibby!
What was the first thing you did to your Vibe?
Windshield wipers. It was lightly raining, and the wipers were beyond terrible. After that the first REAL customization was the fuel economy gauge and new head unit.
What is the favorite thing you've done to your Vibe?
The eyelids! They are really distinctive, and give her a great attitude! Or my LED DRLs on my
bumper.
If you could do one extreme thing to your Vibe, what would it be?
Replace drivetrain with that of the 1.4T Cruze with 6-speed manual, and little more power on the side. LSD for torque-steer. Or… RWD conversion going for a wagony Toycioabru GT-86/FR-S/BRZ.
What is your favorite thing to do with/on your Vibe?
Just… drive! During the summer, going out for a nice drive with the sunroof open, some classic rock on my Ipod (Bohemian Rhapsody anyone?), and getting into some tight corners.
Final words?
I love my Vibe, and love this forum. Thanks for your votes!
Thank you! It's not required, but it is requested, that as the VOTM winner you choose another candidate for next month. Again, thank you, and keep on Vibin'!
(Any suggestions for the questionnaire?)