I've been researching this forum for a couple months now while searching for a 1st generation AWD Vibe or Matrix. I finally found one and bought it, so I thought it is time to register and perhaps contribute.
A little background, if you care. I've wanted an AWD Matrix ever since I first saw one, but I was fresh out of grad school and didn't want to take on a loan for a new car. So, I eventually settled for a manual 1996 Honda Civic sedan that has been very reliable, but boring as can be, and have been driving it for the past 8 years without even thinking about selling it. My wife's 2001 RAV4 was traded in for a more family friendly Mazda5 last December, which made my Civic seem really old. So I started looking for an AWD Matrix/Vibe, and realized that the AWD Vibes are more affordable and don't have the extraneous Matrix underbody spoilers and extensions that seem to give the car even less ground clearance.
After a couple months of searching, I finally found a 2004 Neptune Blue AWD Pontiac Vibe that hit most of my criteria: affordable, low miles (68,000+), one owner, accident free, and relatively spotless for its age. ESC, side air bags, and TPMS might have been nice, but would be a rare find and limit me to a later year. I wouldn't have minded the Monsoon sub, either. Here are a couple pics: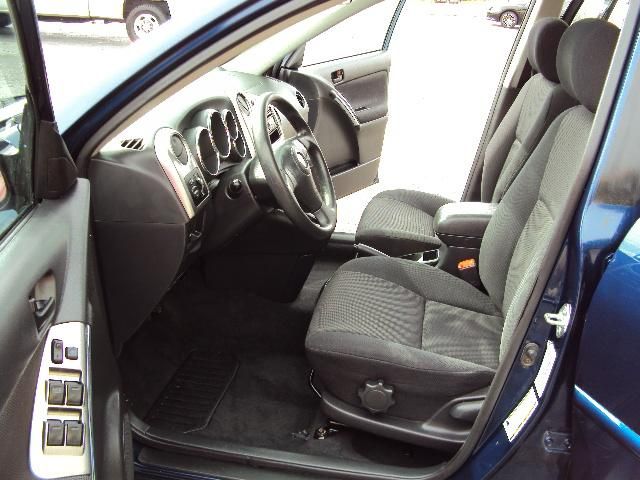 Apparently the previous owner was a fan of bumper stickers, and the years hadn't been kind to the paint, so the used car shop repainted everything but the roof (hope this wasn't a missed red flag). They did a great job. A bonus was that it was debadged (but came with all of the emblems if I want to reattach, which I don't) and it has the crossbars on the roof racks. It has a decent aftermarket head unit. I don't know if the speakers have been upgraded, but they sound decent. It is remote start, which will be nice in the winter. On the way home, I got 25 mpg and 27.5 mpg on the highway on cheap tires that were about 5 lbs. under pressure, so hopefully this will improve.
I have a few things I want to do right away:
1- Install mudflaps (already ordered). This car will see some gravel and muddy roads.
2- Fix the recirc actuator (already ordered) so it stops clicking. Thanks to this forum for helping me figure this common issue out.
3- Replace the fluid in the transfer case and rear differential with synthetic. I didn't see any evidence of leaks.
4- Install a trailer hitch for a bike rack and occasional light towing.
5- Purchase a OEM cargo mat and cargo net
A few things I need to think about:
1- Tires- the dealer installed new ProMeter tires. I need to figure out if these are ticking time bombs, and if they are noisier than a name brand tire. I might just put them on Craigslist before unmounting to see if I can get any $ out of them.
2- The steering wheel is not centered. It was supposedly aligned by the dealer, seems to drive relatively straight, so hopefully the alignment shop goofed up. I need to have this checked out and hope I didn't miss some suspension damage when I was looking over the car.
3- How best to tackle the underbody surface rust before it gets out of hand.
4- Whether to install an auxillary transmission cooler. (Already have one just sitting around).
And a few things might be pipe dreams:
1- Install a Pioneer App Radio
2- Install an underseat enclosed sub (looking at Kenwood KSC-SW11- anyone done this?)
3- Window tinting (would really look good with the color of the car)
If I haven't already lost everyone with this long post, does anyone know of a good service manual that covers the AWD components? Chilton's and Hayne's don't.
Thanks! Looking forward to hearing from anyone who has some advice or comments about anything above!